I was ordered this new smartphone in a month ago, and cancelled once. Then I reordered to my favor AliExpress shop 'Black Peach', but it seems also to a bad choice.
I can understand how lazy chinese are, but it is totally doing bad shipping schedule. I was urged to fast shipping to seller, but SHE ( No more Chris Wei, he disappeared, maybe quit or fired any reason ) Just repeated same words as like 'we are testing' or hard to understand words. So I pushed harder them to tell truth, but it not be abled.
About 2 weeks after, they reported 'It is now shipping progress' and mentioned to 'We can not handle shipping progress, it depends on Singapore post' … Ah yes, It is a rife liar.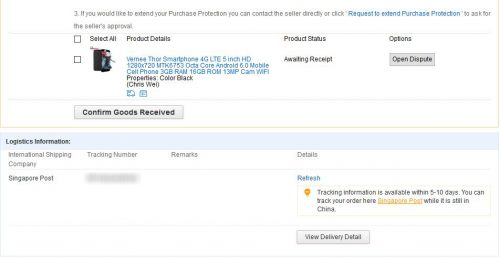 It just reserved to air post. not shipped yet. Yes, 'Black Peach' managing worker doing fraud sales. Most of thest fraud sellers are belong to AliExpress, poor.

Maybe it is my last buy from AliExpress. These bad-asses are not be able to be honest. If you want to buy a new phone? Just buy iPhone, or Motorolla. Maybe LG will OK for quality and services. These budget junks are enough to enjoying as toys.
Or, Meizu or Xiaomi. It is minimal front line to save your time and money.
Stop selling fraud products, AliExpress.