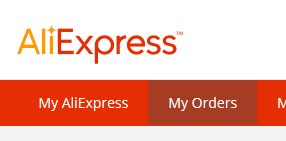 If you know, or want to buy something in Ali-Express of China, it will be better to read before you have do something.
Ali-Express mostly contolled by Ali-Baba and Ali-Express (Ali-Group) managing group. But you must remember sellers are not kind of employee of Ali. So Ali-Express made buyer protection system like doing "Open dispute". But everything is depends on your decision.
Here I writing some good to remember buying something before use payment, and selecting good seller, or deal with seller.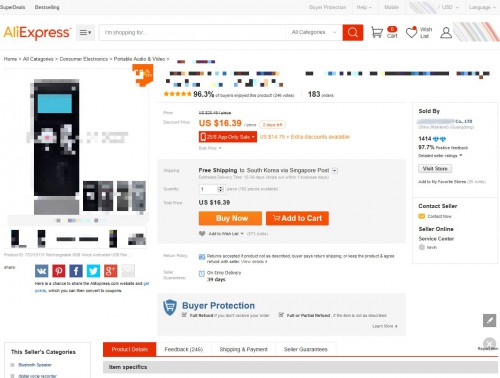 They are Asian
First, they are mostly Asian, or Chinese. Some sellers are using really difficult-to-understanding English. You can check this on selling item description. You may something difficult to understand what they are written, even I am hard to understand also I am an Asian. So you may need read their description in focused.
Check Seller's level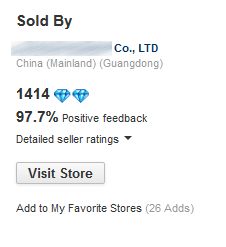 Every sellers are has their level like most of games. it starts with medal to medals, and upgrades to colorful jewels like above image. You may check how many people scored positive feedback. It's easy but important.
Must read feedbacks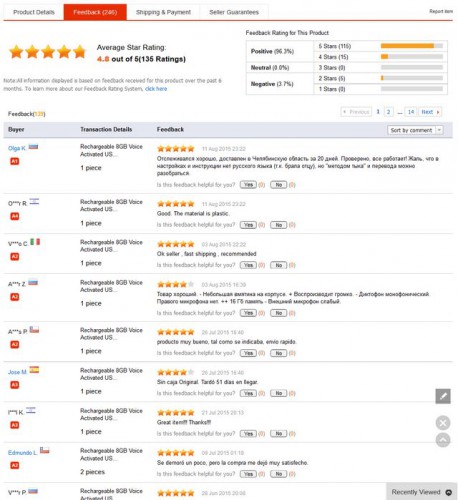 This is really important. If you are buying over 10 USD, read feedback first. If feedbacks are within 10 or not 5 stars, don't buy or consider it. Most of popular item feedbacks are written in Russian, then you may use Google translation web site, or use translate function of Android if you are using it.
Check delivery method

  You can choose delivery method in shipping selection on item page. And they are mostly using these delivery methods.
Chinese ordinary small packet, or Seller's shipping method.
Chinese registered air mail
Hongkong air post
Singapore Post
Netherland Post
e-EMS or EMS
DHL
UPS
Here is some different conditions to selecting method of seller. Worst is "Chinese ordinary small packet" or "Seller's shipping method". It is mostly chosen by under value of 10 USD in free shipping. But it is really really really slow to your destination. It takes over a month in average in Asia. Other area may increased to 2 monthes. And a problem is they are using fake parcel codes in all numberic like 123123123. It shows fake delivery state in only China.

It doesn't never tracked outside of China and even it is not real tracking method, just fake. You can't predict when it arrived in your country. If you want your item quickly delivered in your destination? Choose "Chinese registered air mail" or more paid method.
And you may also remember, every Lithium-ion/polymer battery included goods are only deliver with "Singapore post" or "Netherland post". It takes 2 or 3 weeks in normally, but sometimes over a month. Just you need keep calm and wait for long.
Dealing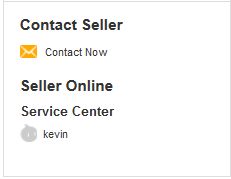 You can ask anything to seller by clicking "Centact Seller" before buying, or after bought. And it is important to used in evidance of disputation and payback. Sometimes you can check delivery(shipping) method by message and pay more bucks to upgrade method. Because some sellers are not using "Chinese air post" even they are written in item page. You may need check this if you are now buying under value of 10 USD.
 Problems?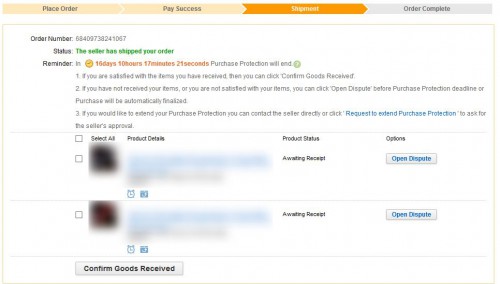 If you have any problem when you didn't get ordered stuff over 2 monthes, or broken delivery. Don't be panic. Just use "Open Dispute". It is similar with normal conversation of "Messages". But doing "Open dispute", it automatically holds item delivery process. You must check shipping term remind days and it never arrived in your destination in promised shipping days, you must open dispute. Then you can claim your discontents on message area, and seller must be answered that in shortly. If not answered by seller, your bad stuff is automatically refund by Ali-Express buyer protection system. Don't forget check delivery term.
Conclusion
Ali-Express is good online shopping method from goods of China. But you need understand what all sellers are not like your country. You need keep mind they are not like us, then make it order to safely delivered in your home in really low price.