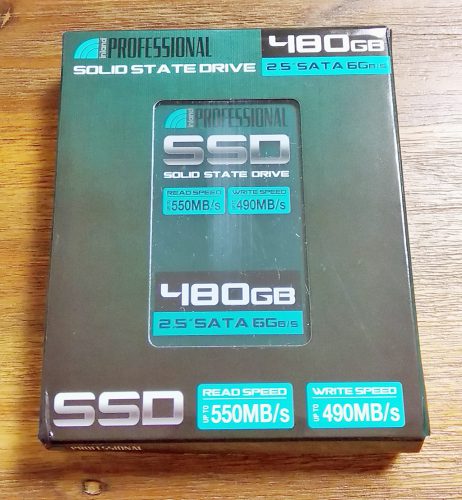 When I bought Inland SSD 480GB again from Amazon, I found new SSD is exactly different from old model by just open paper box – that was plastic enclosured SSD, it was never expected.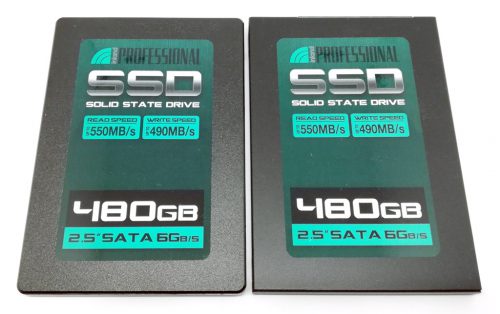 Left : new, Right: old
 Aghhh .. always problem is 'cost down matter' of many manufacturer, new SSD model may changed ODM manufacturer, It means no more metal enclosured chasis, no DDR cache for stability and fast performance for end up capacity, so they are discontinued many things. Here is more negative issues when I open case for putting thermal pads to manage heating.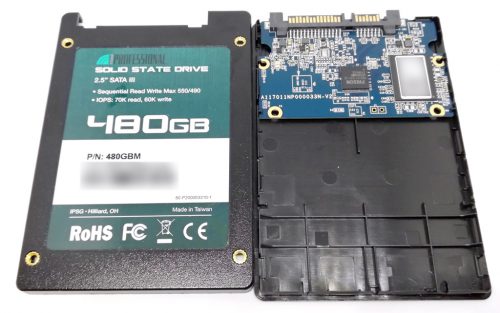 One third size PCB from the past, why? What happended to them  … Yes, new Inland SSD 480GB is totally different, here is PCB picture of previous model with enclosure, black painted steel? aluminium? with full sized PCB with many components.
Previous SSD 480GB contains full size PCB with many Toshiba NANDs with DDR memory beside Phison controller. Every side of PCB finished with grounding that increases durability. Much different with new !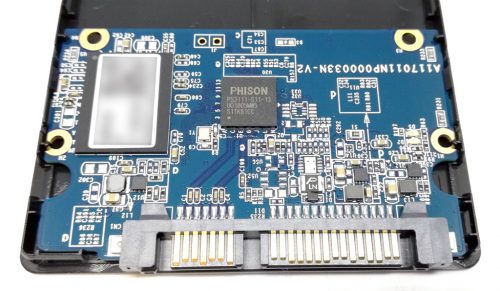 But new PCB is smaller than previous, it is like Chineses cheap SSD, just one third size from SATA3 connector, Different Phison controller is really smaller than previous, different model of PS3111-S11 from PS3110-S10.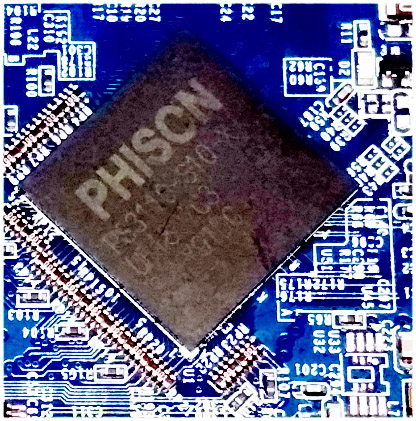 New SSD model PS3111-S11 is made for 3D MLC and TLC NAND models without DDR cache, just supports SLC cachining for limited capacity. So fresh device may not makes troubles while write datas until this SLC caching ran out – then most of lacks of performance occurs mostely filled capacity in half.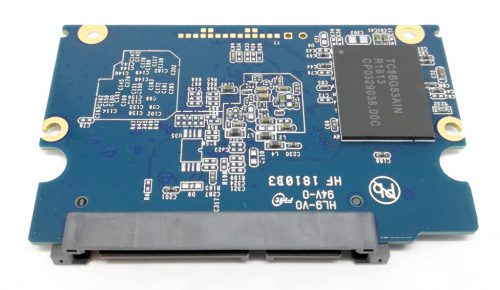 New SSD 480GB ironed two NANDs up and down side, may better than Chinese single module. But still there's nothing like write cache on board. 'Quick forget makes me comfort', yes fast way is just close the enclosure with my minimal thermal therapy, I put some copper tapes to spread heats from controller and backside NAND while it operates in high temperature thru thermal pad.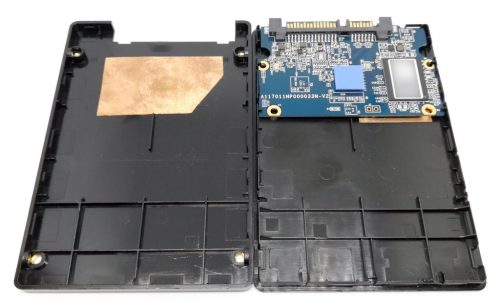 Plastic enclosure makes high temperature thermals stucks in small chamber because there's nothing like to space to spreads out heated air to outside of enclosure. So I am always using this solution to makes components of high temperature heating components to against roasted death of them.
Fresh performance at USB 3.0 controller with UASP is almost 300MB/sec to sequence write, and sequence reading is 360MB/sec.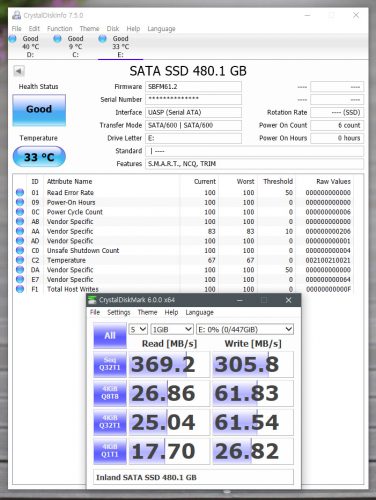 Phison PS3111-S11 controller supports thermal monitoring – some Chinese cheap models are not support this, with minimal S.M.A.R.T features. I'm not sure PS3111-S11 how keep good performance when filled in over half capacity until now, I will continue to write in later for getting more experiences.
Anyway, "Inland" sold their trust to money for thir profit.