As far as working from home extended by COVID-19, I need to buy a server for my old printer to do print anywhere, any device include macOS. So I had a dangerous tripped to buying a small USB print server.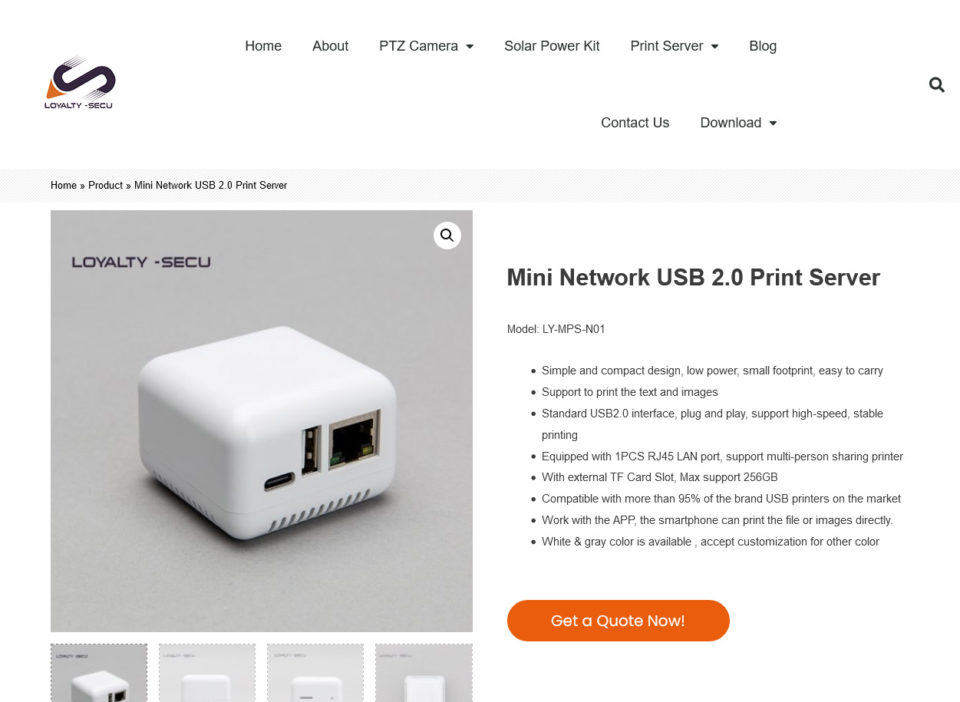 There's too many things about supporting USB printers as a stand-alone server (or I should make an own server with RaspberryPi3B+ but the lazy always makes events) but I can make narrow choice for one product with my conditions as below,
Don't need additional wireless feature, too much frequency hell for now.
It should be joined to NAT.
Just around 20 USD, not much more price don't allowed.
It was a small cubic device. My router LINKSYS AC-1200 not supported USB port, but it looks should be joined to a single device to getting internal static IP from DHCP as well.
LY-MPS-N01-01






Device is very small as like a tiny mouse for laptop. One USB-C port for connect PC or Power supply, One RJ-45 port for joint to a network, and a normal USB port for printer.

Shell is not well plastic-injection-molded, little loose to join part, easily detached – so I need to put some adhesive to fix it. PCB  coated with black material – very economical choice. There's too many empty components, seller answered my question – it was empty place for customer's request, even they described default feature as like micro SD (TF-card) for store what I print.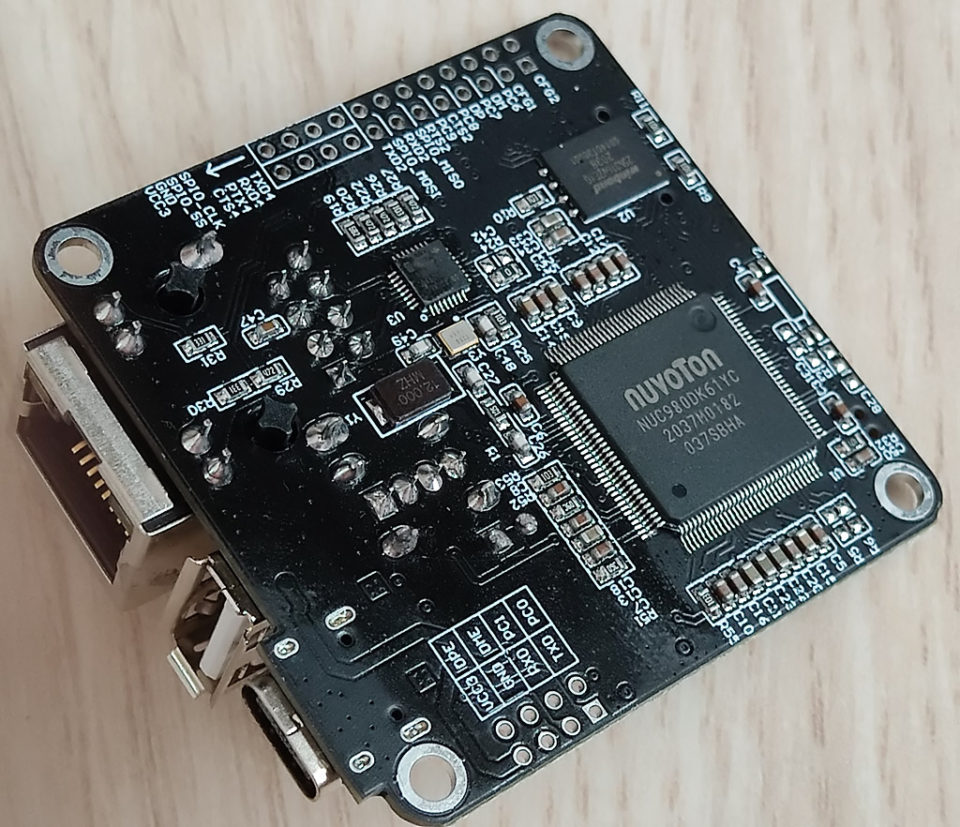 AP is Nuvoton's NUC980DK61YC. A single ARM928E armv8 32bit processor. Running on Embedded Linux kernel v3.4, maybe using squashfs on NAND flash. There's many kindly explained empty port to reverse or debugging. Empty SPIO may leave for wireless features. Seems to SPI NAND upside AP, DDR3 memory embedded inside AP ASIC.
UC980DK61 is an AP made for IoT devices, And Loyaly-Secu may make it as a USB print server. I put a heatsink to prevent unexpected reset by overheated.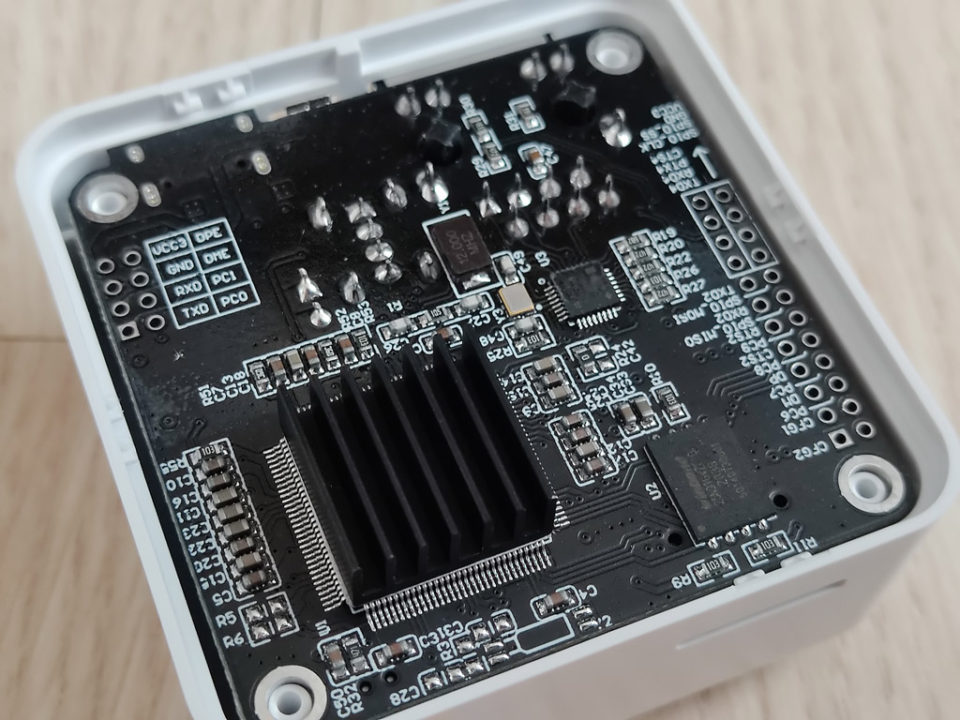 How to join a network
Loyalty-Secu provides manuals here : https://loyalty-secu.com/print-server-s-ver/
I followed their instruction, and totalized as below,
Plug printer USB port to device.
Turn on printer (important !)
Plug RJ45 cable each router to device.
Plug USB-C port to Windows PC (important!)
Loyalty-Secu only provides Windows application to configure device.
Download may avail here : https://loyalty-secu.com/download/5377/
Device may turn on and blinks 3 LEDs.
Windows detecting a USB printer

Run downloaded configuration tool.
Check "USB" word in program (left downside)

Configuration tool may start to find device and shows what IP allocated soon.

There are two choices,

Configure router to serve fixed IP for USB print server.
Configure USB print server to get a static IP from router.

If you want to get fixed IP from router, you need to understand what IP range allocated from router.
I've been configured to USB print server get a last IP from router.


Some explains:

My router configured to serve IP range 10.10.147.100 to 10.10.147.149.
I've been set fixed IP for last of serving IP range, 10.10.147.149.
USB print server don't need actual DNS, set same IP with Gateway (plus prevent to leaking privacy too)

You can add network printer with USB print server IP now.
(Important)uncheck "Bidirectional support" in printer property page.
Remind this, Loyalty-Secu USB print server don't support "Bidirectional support".
macOS should not be easy by driver issues if your printer is not a formal brand like HP.
Now you can print
But these features may not avail for some environments.
Your manufacturer exclusive printer manager not work correctly.
Some OS like macOS – maybe hard to select supported printer by this communicating issue.
Printer should be configured and identified by IP address, but print manager may occur in unexpected problems.
Don't expect perfection
Don't expect any perfect thing by paying 20 USD.
This tiny device handy, low power consume make it always powered on, easily expand your network environment to support a USB printer, that's all.