TRN is an audio instruments company in China, and they are produces a lot of small headphones. I have some headphones among of bunches.
EMA is an open dynamic 14.2 mm driver driven stereo headphone. Has 32 ohm for resistance, 3.5 mm stereo legacy unbalanced plug with silver coated low resistance cables. There are two different colors each for silver and black anodized surface on aluminum housing.
I grabbed a silver one while Aliexpress sale event in May. I'd like to buy black but all colors with silver coated-looks while-unbalanced cable looks not good. Actually, there's nothing good choice within silver.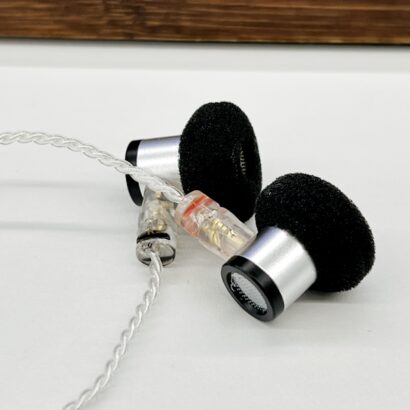 To my ear, 14.2 mm speaker radial is not enough to fit in my ear as well, need to cover bundle foams on speaker units. TRN EMA provides two pairs of foam covers as a bundle.
Testing environments
iPhone 11 Pro Max, iPhone 13, iPhone 13 Pro Max
Xiaomi Redmi Note 10 Pro (Dolby Atmos enabled)
Lightning to USB-C OTG + CS4321 DSD256 Hi-Res Audio
FiiO uBTR (3.5 mm, BLE)
Aster & Kern BX10, balanced output (3.5 mm, BLE)
Qudelix 5K (wired, BLE)
Audio sources
iTunes remastered samples
DSD, DXD audio samples with Neutron Player, with USB direct control mode.
PROS
Comfortable
Open staging as formal open type headphones
Less sound leakage even it has open holes on unit
CONS
Indistinguishable Right and Left mark, with poles—Don't know which is positive pole ?
Only silver color for bundle cable, not able to get spare part in different color
Not much hears definitions, less high, spread bass
Lenient finishing
I recommend to people who want to use open type headphones, or want economical consumption for enjoying wired music experience.