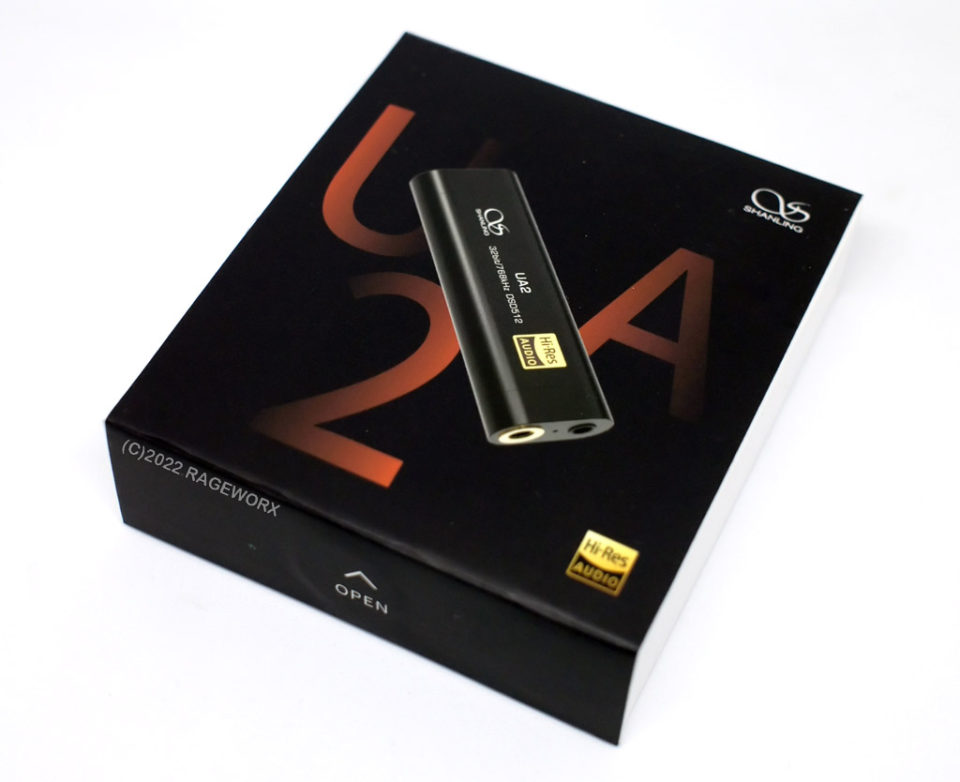 Why Shanling UA2 ?
This is my second time to buy this small but strong DAC for modern smart devices, includes any PC. Shanling UA2 is the second version of their USB type C model supports 2.5 mm balanced and 3.5 mm unbalanced audio jack types.
UA2 used ESS Sabre ES9038Q2M for DAC controller, and combined with Ricore RT6863 for amplifying circuit. These combination looks great for its size and functions. Maybe the best among of similar small form factored devices, specially from China.
Here's some detailed performance about UA2.
Output power

195mW@32 Ω (2.5 mm Balanced)
125mW@32 Ω (3.5 mm Unbalanced)

Frequency response
THD+N

0.0008%@32 Ω (A-weighting@0.5V)

Dynamic range

120dB@32 Ω (2.5 mm Balanced)
122dB@32 Ω (3.5 mm Unbalanced)

Signal-to-noise ratio

116dB@32 Ω (2.5 mm Balanced)
121dB@32 Ω (3.5 mm Unbalanced)

Channel separation

109 dB@32 Ω (2.5 mm Balanced)
76@32 Ω (3.5 mm Unbalanced)

Output impedance

1.6 Ω (2.5 mm Balanced)
0.8 Ω (3.5 mm Unbalanced)

Size
Weight
Bundle package
Shanling UA2 bundled only for USB type C and provides C to A adaptor for formal systems supports only USB type A as bandwidth of USB2.0.
Buyer may get these items in a box,
Shanling UA2
USB type C to A adaptor (works for only USB2.0 bandwidth)
USB type C to C short cable about 10 cm.(works for USB2.0 bandwidth, not supports PD)
A single quick start manual in written Chinese and English.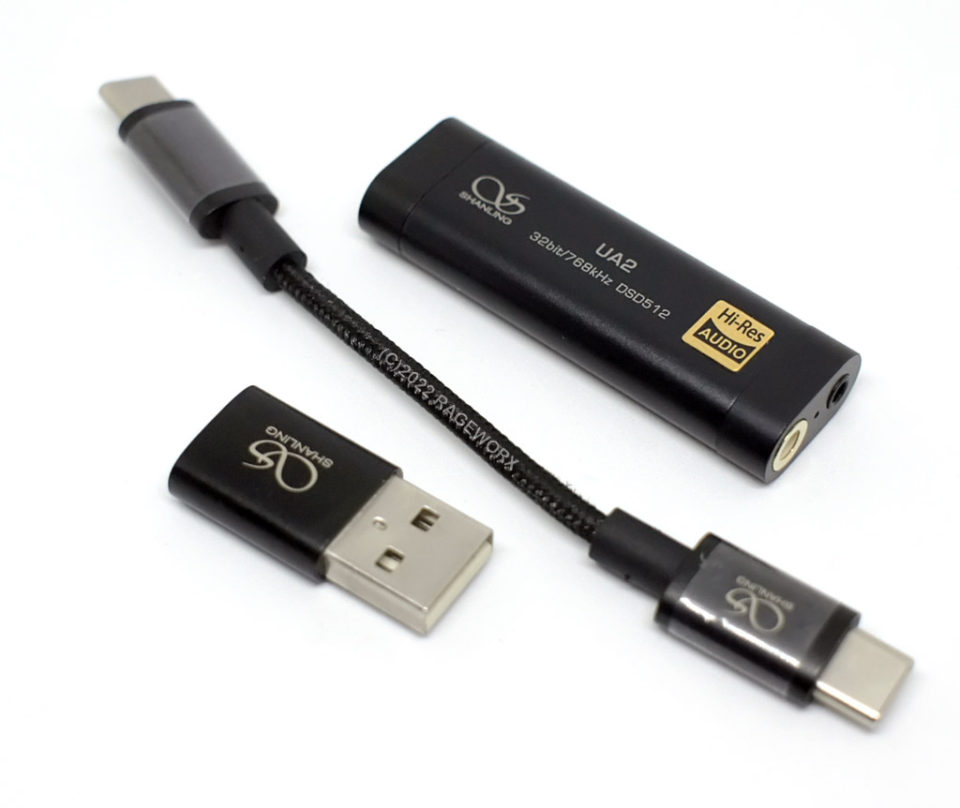 And iPhone users may need Lightning to USB-C OTG adaptor, or Lightning OTG cable for USB-C. Not works for only USB-C to Lightning cable in iPhone box, this is not supports OTG. I bought Lightning to USB-C OTG cable from Shanling as an option, and delivered as well with UA2.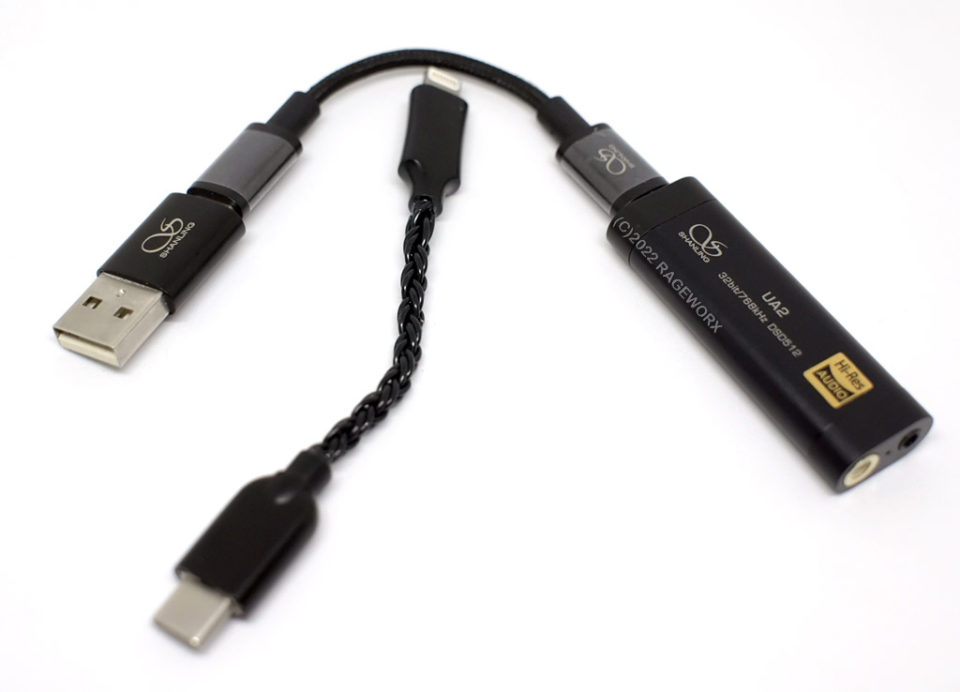 Experience with UA2
Supporting 32bit/384KHz sampling rate is meaning not actual frequency of human hearing, or to speaker unit. Maximum output frequency is described in the specification, 50KHz. Just UA2 supports should handle sound source of 384KHz sample-rated PCM or DSD512 formatted.
Windows or macOS appears audio device handles up to 32bit/384KHz, and some devices directly handle audio controller to play DSD512, specially like Neutron Music Player of Android. And there's one weak point, strange volume control in Linux – always full volume, not adjustable, don't know it occurs only for me.
It's not so suitable for iPhone users, Or lightning ported iPads, because iOS not allows UA2 works fully featured for fully featured sound frequency by OS level. But still UA2 sound hears clear and loud, Even better than Apple lighning 3.5 mm adaptor for output voltage and quality.
Recommended for these people
– or like me.
If you like to make your smartphone to high-end DAP without buying new DAP, you can choose UA2 and buying some good music player that should control USB DAC directly like Neutron Music Player, Or USB Music Player.
Or you need to guarantee your headphone volume with your smartphones include iPhone, you need this. And UA2 supports 2.5 mm balanced output, this meaning more variable high quality audio headphones should be with your smartphone.