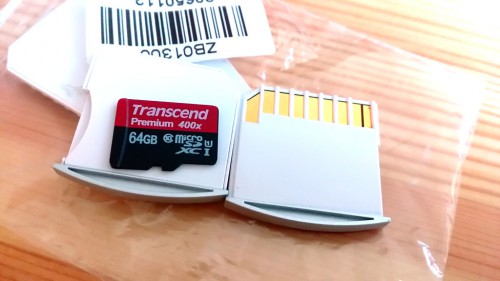 I bought this adaptor in AliExpress at 0.85 USD per a piece for extend my storage for old Lenovo E120 laptop. My laptop was installed 320GB 7.2K rpm HDD but changed it for 240GB SSD. Performance naturally increased but I lost about 100GB of storage, So I wanted extend more storage with my laptop SD slot.
Most of laptop SD slot has not full size depth for easily pull out SD card from slot with your fingers, actually it is a kind of  manufacturer's cost reduction. So most of modern laptop has short depth SD slot and normal SD card may half of body exposed out from SD slot, and it became a issue of broken SD card or slot while you are moving your laptop in your hand or bag.
So I have a plan to use this SD slot for adaptabled extending storage with safe sized micro SD adaptor, and I found one in AliExpress.
Delivery was really hell, I need to wait for more a month – Actually it arrived in 45 days after I paid. And limited compatibles SDXC manufacturer was disappointed me. This adaptor not recognized with Transcend SDXCs. Only works with all under size of 32GB, or Sandisk's 64GB. I don't like to use Samsung or Sandisk – they are expensive junk. But there's no choice to me – and I'd put an expensive trash to this adaptor in my SD slot. It just works well in very slow speed – reading about 30MB/sec and writing is about under 15MB/sec. What a beautiful junk of bad company? It is marked as UHS-1. Expensive than Transcend, and performance is half. Life ? It's TLC. What I expect?
I don't recommend buy this for your MacBook. It definitely not fit your SD slot. Also most of laptop also has same problem in depth – It is too short for them, I was need to modify structure of this litttle junk.
If I score this, I will give 2 of 5.